FIDE Arbiters' Seminar in Manama, BAHRAIN

From 25 to 29 October 2017 a FIDE Arbiters' Seminar was organized in Manama, BAHRAIN, by the Bahrain Mind Sports Association, in cooperation with the Asian Chess Federation and under auspices of FIDE.
The Lecturer of the seminar was IA Mahdi Abdulrahim (UAE), FIDE Arbiters' Commission Councilor and FIDE Lecturer.
The venue of the Seminar was the Ramada Amwaj Hotel in Manama.
The lectures were in Arabic language.
Twenty six (26) people from Bahrain, Syria, Saudi Arabia, Iraq and Palestine, participated in the Seminar and all of them participated in the examination test, held after the end of the lectures.
The following succeeded in the test and they will be awarded a norm for the title of the FIDE Arbiter, after the approval of the next FIDE Presidential Board:
Surname

Fed-ID

Fide

Sex

Bu Khammas, Abdulla

11200359

BRN

Al-Ghasra, Wafa

11200731

BRN

F

Al-Burshaid, Ebrahim

11201126

BRN

Shaker, Musab

11201789

BRN

Al Durazi, Zainab Ali

21508070

KSA

F

Hafedh Ebrahim

11201606

BRN

Rouquier, Burhan

11200413

BRN

Al Makhamel, Abdulwahed

21502730

KSA

Al-Ghasra, Osama

11200170

BRN

Bukhalaf, Mansoor

11200600

BRN

Touaiche,Suhail

7608357

SYR

Alaraibi, Mahmood

11203560

BRN

Darwish, Hashim

11201258

BRN

Ayyad, Maher

11200235

BRN

Al Jamri, Maleeha

11202300

BRN

F

Ishaq, Alanoud

21512329

KSA

F

Skaik, Nabil

11203633

FID

(PLE)

Suad Abdulameer Salloom Alzuabidi

4814614

IRQ

F

Al Sadeq, Ameen

21500223

KSA

Fallatah, Eiman

21512086

KSA

F

Alzbiday, Nawal

21512108

KSA

F

Alhassan, Aljowhrah

21510288

KSA

F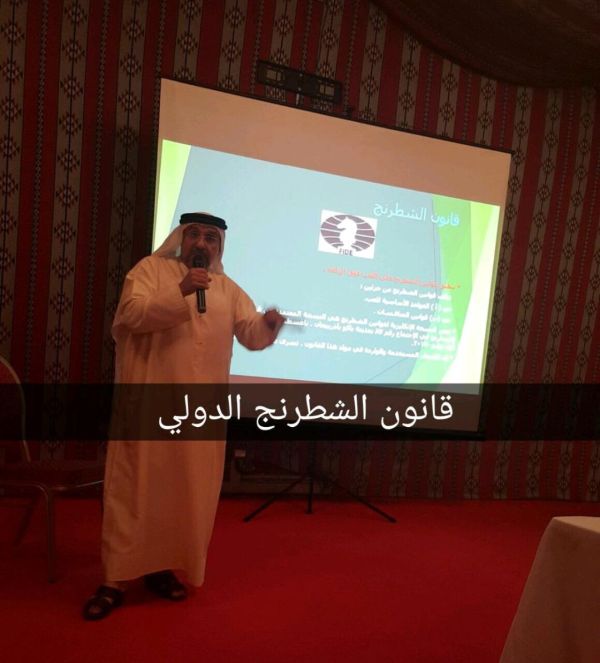 IA Takis Nikolopoulos
Chairman
FIDE Arbiters' Commission