56th CCA Internet based FIDE Arbiters' Seminar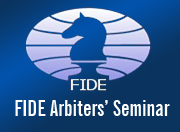 From 12 to 17 December 2017 the 56th Internet based FIDE Arbiters' Seminar was held, organized by the Confederation of Chess for America under the auspices of FIDE.
The lecturer of the seminar was IA Santiago Garcia Ramos (MEX), FIDE Lecturer
The Technical Organizer was IA Jorge Vega (GUA).
The Lectures were in Spanish language.
Twenty nine (29) Arbiters from twelve (12) federations (Costa Rica, Honduras, Chile, Mexico, Venezuela, Peru, Paraguay, Nicaragua, Guatemala, Bolivia, Colombia and Haiti) attended the seminar on Internet and participated in the examination test held after the lectures.
The following succeeded in the test and will be awarded a norm for the title of FIDE Arbiter, after the approval of the next FIDE Congress:
Name

Federation

Lemus Moreno

,

Alejandro

Chile

Miranda Solano

,

Keilor

Costa Rica

Nunez Gonzalez Neeshmy

,

Johana

Costa Rica

Rodriguez Arrieta

,

Jose Allan

Costa Rica

Pastor Cristino

,

Alan

Mexico

Rosales Valdivieso

,

Claudio

Chile

Iriarte Blas

,

Walter

Peru
IA Takis Nikolopoulos
Chairman
FIDE Arbiters' Commission