FIDE Arbiters' Seminar in Glasgow, SCOTLAND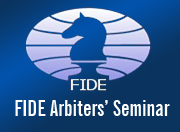 From 2 to 4 February 2018 a FIDE Arbiters' Seminar was organized in Glasgow, Scotland, by the Chess Scotland Arbiters' Committee, in cooperation with the Scotland Chess Federation and under the auspices of FIDE.
The venue of the Seminar was the 10 Chrighton Green, Uddingston G71 6TU.
The Lecturer was IA Alex McFarlane (SCO), FIDE Lecturer and the Assistant Lecturer was IA Lara Barnes (ENG).
The lectures were in the English language.
Eight (8) people from England, Scotland and Romania participated in the Seminar and in the examination test held after the lectures.
The following succeeded in the examination test and will be awarded a norm for the title of FIDE Arbiter after the approval of the next FIDE Presidential Board:
NAME FIDE I.D. FED.
——————————————-
David, Dorian-Ciprian 1216341 ROU
Maxwell, Alistair 2401193 SCO
McNicoll, John 2403676 SCO
Petrie, Fiona 2406624 SCO
Petrie, Morven 2405148 SCO
Whatley, Sharon — ENG
IA Takis Nikolopoulos
Chairman
FIDE Arbiters' Commission