FIDE Arbiters' Seminar in Puchong, Selangor, MALAYSIA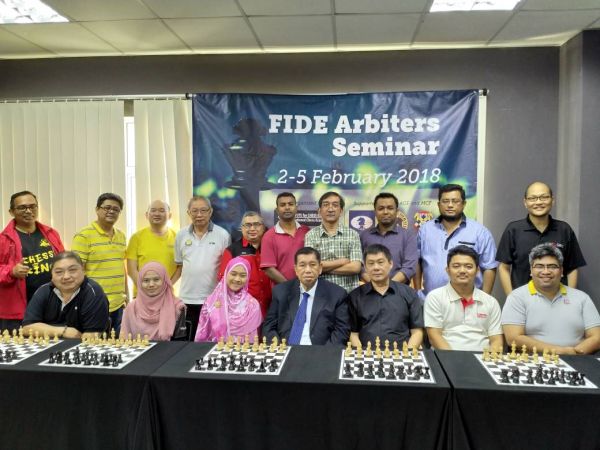 From 2 to 5 February 2018 a FIDE Arbiters' Seminar was organized in Puchong, Selangor, Malaysia, by the Malaysian Chess Association, in cooperation with the Asian Chess Federation and under the auspices of FIDE.
The Lecturer of the seminar was IA Casto Abundo (PHI), FIDE Lecturer, and Assistant Lecturer was IA Peter Long (MAS).
The venue of the Seminar was Institute for Chess Excellence, 69-2 & 69-3, Jalan Puteri 2/3, Bandar Puteri, 47100 Puchong, Selangor, Malaysia.
The lectures were in English language.
Sixteen (16) people from Malaysia and Singapore participated in the Seminar and 13 of them participated in the examination test, held after the end of the lectures.
The following succeeded in the test and they will be awarded a norm for the title of the FIDE Arbiter, after the approval of the next FIDE Presidential Board:
FIDE ID NAME FED.
| | | |
| --- | --- | --- |
| 5711835 | Ahmad Nazari, Ellie Emira | MAS |
| 5711673 | Ng Say Long | MAS |
| 393200060 | Emran Mohd Tamil | MAS |
| 5733936 | Le Hock Hin | MAS |
| 5757240 | Masha Naizli Menhat | MAS |
| 5706653 | Lee Boon Why | MAS |
| 5700175 | Muzzaffar, Ahmad | MAS |
| 5701864 | Abdulah Salim | MAS |
| 5701139 | Rizal Ahmad Kamal | MAS |
| 5709237 | Norazwan Kamaruzaman | MAS |
| 5704260 | N. Annadurai Narayanasamy | MAS |
| 5728959 | Nur Sharina Husna Esa | MAS |
| 5716020 | Haji Mohamad, Amirul | MAS |
IA Takis Nikolopoulos
Chairman
FIDE Arbiters' Commission