FIDE ARBITERS' SEMINAR in Paris, FRANCE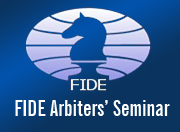 A FIDE Arbiters' Seminar is going to be organized on 12 and 13 May 2018 in Paris, France, by the Direction Nationale de l'Arbitrage (DNA) with the support of the Culture Echecs Chess Club, in cooperation with the French Chess Federation and under the auspice of FIDE.
The Lecturer will be IA Laurent Freyd (FRA), FIDE Lecturer and the Assistant Lecturer will be IA Dominique Dervieux (FRA).
The venue of the Seminar will be Culture Echecs, 29 Ter Rue Albert Caron, 92150 SURESNES (FRANCE).
The language of the Seminar will be French.
The Seminar will give norms for the FIDE Arbiter title according to the Regulations for the titles of the Arbiters.
For more detailed information:
IA Laurent Freyd – e-mail: laurent.freyd@echecs.asso.fr
tel.: +33 622 317 610
(see application)