FIDE Arbiters' Seminar in Moscow, RUSSIA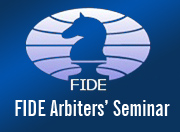 From 2 to 5 February 2011 a FIDE Arbiters' Seminar was organized in Moscow, Russia, by the Moscow Chess Federation in cooperation with ISCU and under the auspices of FIDE.
The lecturer was IA Andrzej Filipowicz (POL), Secretary of the FIDE Technical Commission and FIDE Lecturer, and Assistant lecturer was NA Artiom Akhamtov (RUS).
The language of the Seminar was English.
31 National Arbiters from five (5) Federations (RUS, AZE, BLR, GRE and KAZ) participated in the seminar.
17 of them participated in the examination test, held after the end of the lectures.
The following succeeded in the test and will be awarded a norm for the FIDE Arbiter title, after the approval of the next FIDE Presidential Board:
Name ID Number FED
| | | |
| --- | --- | --- |
| Adabash Ledislava | 24164577 | RUS |
| Korneevets Alexander | 13500180 | BLR |
| Kurnaev Vladimir | 4143833 | RUS |
| Mestnikov Semen | 24181463 | RUS |
| Papadopoulos, Konstantinos | 4210301 | GRE |
| Plotnikov Pavel | 4170342 | RUS |
| Rinas Oleg | 13702599 | KAZ |
| Sedenko Anatoly | 14104636 | RUS |
| Vatlin Alexander | 24168467 | RUS |
| Verko Tatiana | 13700987 | KAZ |
| Volkova Ekaterina | 4157435 | RUS |
| Kamalova Galya | – | RUS |
| Sukhareva Olga | – | RUS |
| Moiseev, Anatoly V. | 4186001 | RUS |
IA Panagiotis Nikolopoulos
Chairman
FIDE Arbiters' Commission