FIDE Arbiters' Seminar in Cabuyao, PHILIPPINES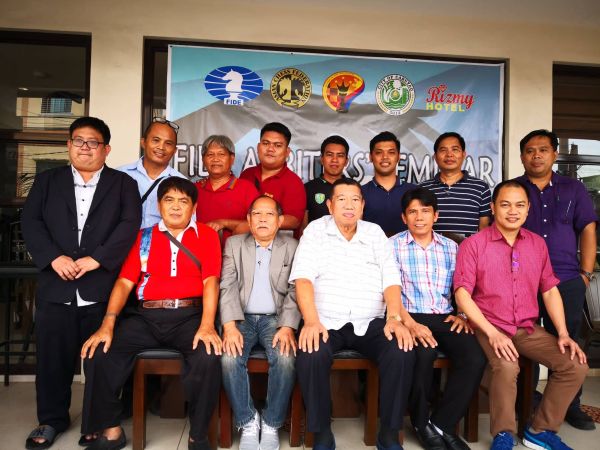 From 2 to 3 June 2018 a FIDE Arbiters' Seminar was organized in Cabuyao, Philippines by the National Chess Federation of the Philippines in cooperation with the Asian Chess Federation and under the auspices of FIDE.
The Lecturer of the seminar was IA Casto Abundo (PHI), FIDE Lecturer.
The venue of the Seminar was the Rizmy Hotel in Cabuyao City, Laguna.
The lectures were in English language with translation to Pilipino.
Eleven (11) people from the Philippines participated in the Seminar and all of them participated in the examination test, held after the end of the lectures.
The following succeeded in the test and they will be awarded a norm for the title of the FIDE Arbiter, after the approval of the next FIDE Presidential Board:
FIDE ID NAME FED
—————————————————
5233305 Elnathan Sunny C. Emilio PHI
5233313 Edwin S. Cablao PHI
5219590 Ceferino C. P. Gonzales PHI
5231515 Francisco Gabriel Prevandos PHI
5202760 Alfredo M. Paez PHI
5229022 Nestor C. Barbosa PHI
5201209 Almario Marlon Bernardino Jr. PHI
5233291 John Marco C. Balane PHI
5231523 Allan O. Pelias PHI
5231507 Rafael A. Cayanan PHI
5233321 Maurillo P. Haig Jr. PHI
IA Takis Nikolopoulos
Chairman
FIDE Arbiters' Commission