FIDE ARBITERS' SEMINAR in Macau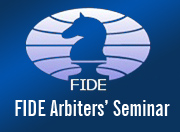 A FIDE Arbiters' Seminar is going to be organized from 28/06/2019 to 30/06/2019 in Macau, by Macau / Grupo de Xadrez de Macau, under the auspices of FIDE.
The venue of the Seminar will be Est. Coronel Nicolau de Mesquita nos 2-26, Ed. "César Fortune", AC/V4, Taipa.
The Lecturer will be IA Kwai Keong Chan (HKG), FIDE Lecturer and the Assistant Lecturer will be IA Zhihua Liang (CHN).
The language of the Seminar will be English with translation into Chinese.
The Seminar will give norms and titles of FIDE Arbiter, according to the Regulations for the titles of Arbiters.
For more detailed information:
KK Chan
Mobile: +85281974415
Zhihua Liang
Mobile: +8613570628998