FIDE ARBITERS' SEMINAR in Maputo, MOZAMBIQUE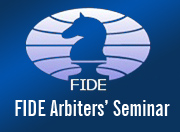 A FIDE Arbiters' Seminar is going to be organized from 30 May to 5 June 2011 in Maputo, Mozambique, by the African Chess Union and the Mozambique Chess Federation and under the auspices of FIDE.
The venue of the Seminar will be the TURISMO Hotel in Maputo.
The Lecturer will be IA Carlos Dias (POR), FIDE Lecturer.
The language of the Seminar will be Portuguese.
For more detailed information:
Leonel Andrade : e-mail: leonelandrade08@gmail.com
Tel: +258 823035910 (cell)
+258 21 415 731 (land line)