FIDE Arbiters' Seminar in Toluca, MEXICO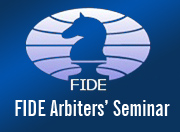 From 25 to 27 April 2011 a FIDE Arbiters' Seminar was organized in Toluca, Mexico, by the Mexican Chess Federation, in cooperation with the Confederation for Chess for America and under the auspices of FIDE.
The lecturer was IA Jorge Vega (GUA), Americas Continental President and FIDE Lecturer and Assistant lecturer was IA Jose Martinez Garcia (MEX).
The lectures were in Spanish language.
18 National Arbiters from Mexico participated in the Seminar.
All of them participated in the examination test, held after the end of the lectures and the following succeeded in the test and will be awarded a norm for the FIDE Arbiter title and after the approval of the next FIDE Presidential Board:
| | | |
| --- | --- | --- |
| Castillo Delgado, Miguel Ángel | MEX | 5105897 |
| Sánchez Martínez, Eduardo | MEX | |
| Velasco Fuentes, Neil | MEX | |
| Villanueva Castillo, Wilbert | MEX | |
| Herrera García, Pio Arnoldo | MEX | 5108934 |
| Jiménez Moreno, Lilián Alejandra | MEX | |
| Monroy Lozano, David | MEX | |
| Aranda Leal, Hugo Alberto | MEX | 5104670 |
| Bolio Zapata, Edwin David | MEX | 5109612 |
| Cámara Mendoza, Victoria Eugenia | MEX | |
| Escareño Rojas, Ángel Salvador | MEX | 5107733 |
IA Panagiotis Nikolopoulos
Chairman
FIDE Arbiters' Commission