FIDE Arbiters' Seminar in Gaborone, Botswana (July 2019) – Report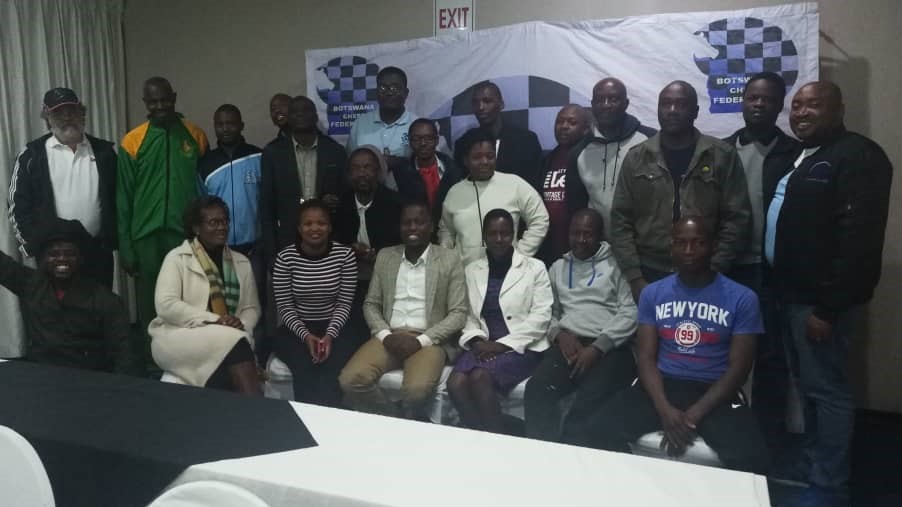 From 17th to 19th July 2019 a FIDE Arbiters' Seminar was organized in Gaborone (Botswana) by the Botswana Chess Federation, under the auspices of FIDE.
The Lecturer was IA Gunther van den Bergh (RSA), FIDE Lecturer and the Assistants Lecturer were FA Roger Tiroyamodimo (BOT) and IA Vincent Masole (BOT).
The language of the Seminar was English.
Eighteen (18) arbiters from Botswana, Zimbabwe and Zambia participated in the Seminar and all of them participated in the examination test, held after the end of the lectures.
The following succeeded in the test and they will be awarded a norm for the title of the FIDE Arbiter, after the approval of the next FIDE Presidential Board:
| | | |
| --- | --- | --- |
| FIDE ID | Name (as on FIDE Profile) | FED |
| 11317280 | Odirile Dithakgwe | BOT |
| 11316179 | Phunyuka Oaitse | BOT |
| 11310138 | Tingwane, Mokwaledi | BOT |
| 11007516 | Ndebele, Thaddeus | ZIM |
| 8719241 | Kameta Festus | ZAM |
| 11320850 | Tshenolo Motswasele | BOT |
| 11317299 | Free Gontse | BOT |
| 11303085 | Lekomola, Senate | BOT |
| 11302275 | Kesiilwe, Dragon | BOT |
| 11005742 | Lydia,Nyoni | ZIM |
| 11300426 | Mpuisang, Alex B | BOT |
| 11300280 | Khetho, Phemelo | BOT |
| 11301287 | Francis, Onkemetse | BOT |
| 11309245 | Serokana, David | BOT |
| 11311401 | Otlaadisa Christopher Mogorosi | BOT |
IA Laurent Freyd
Chairman
FIDE Arbiters` Commission