70th INTERNET based FIDE ARBITERS' SEMINAR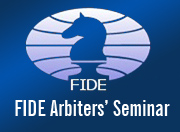 The 70th Internet based FIDE Arbiters' Seminar is going to be organized from 24/11/2019 to 29/11/2019 by the FIDE Women's Commission (WOM), under the auspices of FIDE.
The Lecturer will be IA/IO Abdulrahim, Mahdi (UAE), FIDE Lecturer and the Assistant Lecturer will be IA/IO El Husseiny, Mohamed (EGY) and the Technical Organizer will be IA/IO Prevenios, Mihail (CAN).
The language of the Seminar will be Arabic.
The Seminar will give norms and titles of FIDE Arbiter, according to the Regulations for the titles of Arbiters.
Note: The participation fee for women will be covered by WOM from OIC "Gender Equality" project funding.
For more detailed information:
IA/IO Mahdi Abdulrahim
Phone: (971) 504556453
IA Kadimova Ilaha
Phone: +994502459434