FIDE Arbiters' Seminar in Kuala Lumpur, MALAYSIA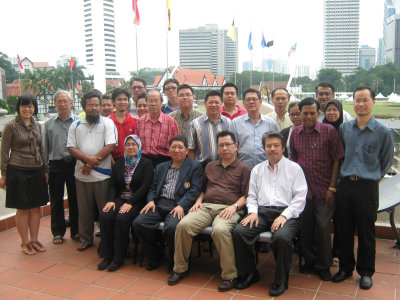 From 30 June to 4th July 2011 a FIDE Arbiters' Seminar was organized in Kuala Lumpur, Malaysia, by the Malaysian Chess Federation and under the auspices of FIDE.
The lecturer was IA Ignatius Leong (SIN), FIDE General Secretary and FIDE Lecturer and Assistant Lecturer was IA Bunawan Bong (INA).
The lectures were in English language.
23 people from Malaysia participated in the Seminar and in the in the examination test, held after the end of the lectures.
The following succeeded in the test and they will be awarded a norm for the FIDE Arbiter title, after the approval of the next FIDE Congress:
Najib Abdul Wahab (MAL)
Jax Tham Tick Hong (MAL)
Collin Madhavan (MAL)
Cheong Kok Love (MAL)
Eddy Kwan Nam Sang (MAL)
Tan Kok Liang (MAL)
Narayanan Krishnan (MAL)
Josephine Berago (MAL)
Khairunnisa Wahidduddin (MAL)
Loo Swee Leong (MAL)
Fong Choong Ee (MAL)
Lim Kian Hwa (MAL)
Yip Chin Chin (MAL)
Hamdan Osman (MAL)
Nik Ahmad Farouqi Bin Nik Abdul Aziz (MAL)
Nik Mohd Azrihan Bin Abdul Ghafar (MAL)
Rosdi Bin Zakaria (MAL)
Charles Lucas (MAL)
Mok Tze Meng (MAL)
Haslindah Ruslan (MAL)
IA Panagiotis Nikolopoulos
Chairman
FIDE Arbiters' Commission