FIDE Arbiters' Seminar in Shenzhen, CHINA
From 8 to 12 July 2011 a FIDE Arbiters' Seminar was organized in Shenzhen, China, by the Chinese Chess Association, in collaboration with the Executive Committee of the FISU Shenzhen Universiade 2011 and under the auspices of FIDE.
The lecturer was IA Ignatius Leong (SIN), FIDE General Secretary and FIDE Lecturer and Assistant Lecturer was IA Zhu Jiaqi (CHI).
The lectures were in English language.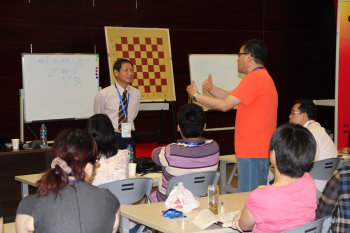 14 people from China participated in the Seminar and in the in the examination test, held after the end of the lectures.
The following succeeded in the test and they will be awarded a norm or the FIDE Arbiter title, after the approval of the next FIDE Congress:
Hu Xi (CHN)
Li Qi(w) (CHN)
Liu Wen(w) (CHN)
Yang Ning(w) (CHN)
Ding Jie (CHN)
Yu Shanzhong (CHN)
Han Yajun (CHN)
Xia Qiong(w) (CHN)
Zhang Wei(w) (CHN)
Li Shaomeng (CHN)
Wang Yang (CHN)
IA Panagiotis Nikolopoulos
Chairman
FIDE Arbiters' Commission