FIDE Arbiters' Seminar in Santiago, CHILE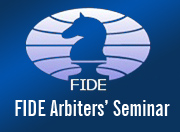 From 28 to 31 August 2011 a FIDE Arbiters' Seminar was organized in Santiago, Chile, by the Chess Federation of Chile and under the auspices of FIDE.
The venue of the Seminar was the "FUNDACION CHILENA DE AJEDREZ".
The lecturer was IA Antonio Bento (BRA), FIDE Lecturer.
The lectures were in Spanish language.
14 people from Chile and Paraguay participated in the Seminar and in the examination test, held after the end of the lectures.
The following succeeded in the test and they will be awarded a norm for the FIDE Arbiter title, after the approval of the next FIDE Congress:
Adolfo Gerardo Barrios Lara (CHI)
Armin Barria Yatul (CHI) FIDE ID 3402797
César Hanssel Amaro Troncoso (CHI) FIDE ID 3407012
Cristian Alexis Estrada Sandoval (CHI) FIDE ID 3408191
Daniel Gonzalez Gonzalez (CHI) FIDE ID 3408477
David Andrés Faúndez Flies (CHI)
Fernanda Diaz Lillo (CHI) FIDE ID 3412423
Jorge Aandres Valezuela Quezada (CHI) FIDE ID 3416739
Juan Carlos Campos Mosqueira (CHI)
Marciano Catalino Martinez (PAR) FIDE ID 3700666
Nelson Gonzalez Jeldres (CHI)
Pedro Jaime Basualto Peñalieres (CHI) FIDE ID 3401561
IA Panagiotis Nikolopoulos
Chairman
FIDE Arbiters' Commission