FIDE ARBITERS' SEMINAR in Gatwick, ENGLAND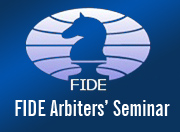 A FIDE Arbiters' Seminar is going to be organized from 28 to 30 October 2011 in Gatwick, England, by the e2e4 Chess and the Chess Arbiters' Association, in cooperation with the English Chess Federation and under the auspices of FIDE.
The venue will be the Crowne Plaza Hotel in London Gatwick Airport.
The Seminar will be held alongside the e2e4 London Gatwick International and the e2e4 English Senior Championships.
The Lecturer will be IA David Sedgwick (ENG), FIDE Lecturer and Assistant Lecturer will be IA Sean Hewitt (ENG).
The language of the Seminar will be English.
For more detailed information:
Sean Hewitt : e-mail : sean@e2e4.org.uk,
tel : +44 7883 495758
(see application form)