FIDE ARBITERS' SEMINAR in London, ENGLAND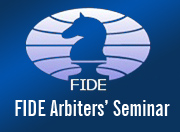 A FIDE Arbiters' Seminar is going to be organized from 5 to 9 December 2011 in London, England, by the Chess in Schools and Communities and the Chess Arbiters' Association, in cooperation with the English Chess Federation and under the auspices of FIDE.
The venue will be the Olympia Conference Centre in London.
The Seminar will be held alongside the London Chess Classic Tournament.
The Lecturers will be IA Alex McFarlane (SCO) and IA David Sedgwick (ENG), FIDE Lecturers.
The language of the Seminar will be English.
For more detailed information:
Alex McFarlane : e-mail : ahmcfarlane@yahoo.co.uk
(see application form)