FIDE Arbiters' Seminar in Chennai, INDIA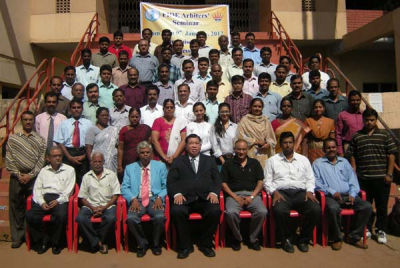 From 6 to 9 January 2012 a FIDE Arbiters' Seminar was organized in Chennai, India, by the All India Chess Federation and under the auspices of FIDE.
The Lecturers were IA Casto Abundo (PHI), Asian Chess Federation Deputy President and FIDE Lecturer, and IA Prof. R. Anatharam (IND).
The lectures were in the English language.
Fifty seven (57) people from various parts of India participated in the Seminar and in the examination test held after the lectures. The following succeeded in the test and they will be awarded a FA Norm, after the approval of the next FIDE Presidential Board:
| | | |
| --- | --- | --- |
| Name | Fed | |
| Ganesh Babu S | IND | |
| Jismon Mathew | IND | |
| Murugavel | IND | |
| Bhakti R Bahua | IND | |
| Chandra Shekhara Upadhyaya T V | IND | |
| Ramesh Babu C R | IND | |
| Natarajan C | IND | |
| Vinod Kumar M | IND | |
| Roshan Deokisan Bhutada | IND | |
| Akalamkam Ramakrishna | IND | |
| Arivazhagan T | IND | |
| Dattaram Pinge | IND | |
| Plaito V William | IND | |
| Sneha Shethar Ghatpande | IND | |
| Sundarrajan | IND | |
| Vappangi Srikanth | IND | |
| Amburose Arokyaraj A | IND | |
| Pradip Kumar Roy | IND | |
| Winston G | IND | |
| Nadaradjane S | IND | |
| Saravana Kumar R | IND | |
| Tapas Kumar Mohanty | IND | |
| Thiru Murugan R | IND | |
| Maran P | IND | |
| Suresh Chandra Sahoo | IND | |
| Rajendra Teli | IND | |
| Abbas Ali J S | IND | |
| Prem Pandit | IND | |
| Arvind Mhamal | IND | |
| Narayanan J | IND | |
| Kathiravan M | IND | |
| Pravin Devachand Thakare | IND | |
| Amrendra Kumar Pandey | IND | |
| Raghavan V | IND | |
| Baskar J | IND | |
| Sanjay Kavlekar | IND | |
| Chetan Deorao Deodhagale | IND | |
| Jeevan Kumar J | IND | |
| Gowri Shankar A | IND | |
| Venugopalan A P | IND | |
| Vidya Gururaja | IND | |
| Bindu Madhab Hajra | IND | |
| Gajendra Kumar Behera | IND | |
| Vasant Naik | IND | |
| Balakrishna R | IND | |
| Natarajan S | IND | |
| Visalakchi M | IND | |
IA Panagiotis Nikolopoulos
Chairman
FIDE Arbiters' Commission