FIDE Arbiters' Seminar in Ruzoberock, SLOVAKIA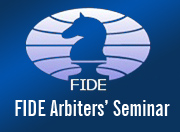 From 20 to 22 January 2012 a FIDE Arbiters' Seminar was organized in Ruzoberock, Slovakia, by the Slovak Chess Federation and under the auspices of FIDE.
The Lecturer was IA Andrzej Filipowicz (POL), FIDE Lecturer, and Assistant Lecturers were IA Carol Pekar (SVK) and IA Ivan Syrovy (SVK).
Ten (10) arbiters from Slovakia, Czech and Poland participated in the Seminar and in the examination test held after the lectures. The following succeeded in the test and they will be awarded a FA Norm, after the approval of the next FIDE Presidential Board:
Name Fed. FIDE I.D.
————————————————————-
Milan Boruvka CZE 313980
Jaroslav Smid CZE 316512
Martin Sobek CZE 328227
Mariana Olsarova CZE 351644
Tadeusz Agacinski POL 1127586
Rastislav Kevicky SVK 14901420
Peter Palecek SVK 14901773
Gustav Sturc SVK 14902303
Matej Vyparina SVK 14903539
IA Panagiotis Nikolopoulos
Chairman
FIDE Arbiters' Commission