FIDE ARBITERS' SEMINAR in Sibenik, CROATIA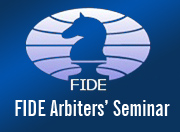 A FIDE Arbiters' Seminar is going to be organized from 27 to 30 September 2012 in Sibenik, Croatia, by the Croatian Chess Federation and under the auspices of FIDE.
The Lecturers will be IA Vladimir Sacotic (MNE) and IA Sava Stoisavljevic (SRB), FIDE Lecturers.
The language of the Seminar will be English.
The Seminar will give FIDE Arbiter norms and titles, according to the Regulations for the titles of the Arbiters.
For more detailed information:
Zvonko Juras – Secretary of Croatian Association of Chess Arbiters
– Postal address: Digitronska 25, 52460 Buje, Croatia
– Mobile phone: ++385 91 1366109
– e-mail address: fideseminar@huss.hr
(see application)