FIDE Arbiters' Seminar in Hue, VIETNAM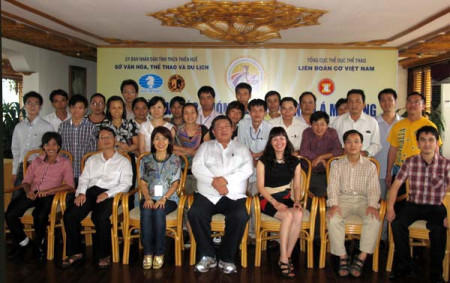 From 15 to 19 June 2012 a FIDE Arbiters' Seminar was organized in Hue, Vietnam, by the Vietnam Chess Federation and under auspices of FIDE.
The lecturer was IA Casto Abundo (PHI), Asian Chess Federation Deputy President and FIDE Lecturer.
The lectures were in English language.
31 Arbiters from Vietnam, Laos and Philippines participated in the Seminar and in the examination test, held after the end of the lectures. The following succeeded in the test and will be awarded a norm for the FIDE Arbiter title and after the approval of the next FIDE Congress:
| | | |
| --- | --- | --- |
| | | |
| Name | FED | ID-FIDE |
| Nguyen Phu | VIE | 12409995 |
| Pham Huong Giang | VIE | 12407429 |
| Nguyen Trong Luat | VIE | 12410055 |
| Dao Thien Hai | VIE | 12400084 |
| Tran Thanh Tu | VIE | 12401404 |
| Le Ba Thanh | VIE | 12410063 |
| Truong Duc Chien | VIE | 12400548 |
| Nguyen Anh Dung | VIE | 12400025 |
| Bui Thi Mai Tram | VIE | 12407437 |
| Gamaliel G. Gonzales | PHI | 5216281 |
| Nguyen Thi Tuong Van | VIE | 12400270 |
| Nguyen Thien Viet | VIE | 12401498 |
| Hoang Thi Ut | VIE | 12401293 |
| Bao Quang | VIE | 12401161 |
| Phung Nguyen Tuong Minh | VIE | 12402583 |
| Huynh Hoa Minh Nhat | VIE | 12409723 |
| Do Ngoc My Le | VIE | 12404306 |
| Bao Khoa | VIE | 12401501 |
| Nguyen Huynh Minh Toan | VIE | 12410047 |
| Cao Sang | VIE | 725056 |
| To Quoc Khanh | VIE | 12400939 |
| Nguyen Quoc Cuong | VIE | 12410039 |
| Bui Ngoc Anh | VIE | 12410012 |
| Mai Thi Thanh Huong | VIE | 12400130 |
| Hoang Thien | VIE | 12407410 |
IA Panagiotis Nikolopoulos
Chairman
FIDE Arbiters' Commission