FIDE Arbiters' Seminar in Manila, PHILIPPINES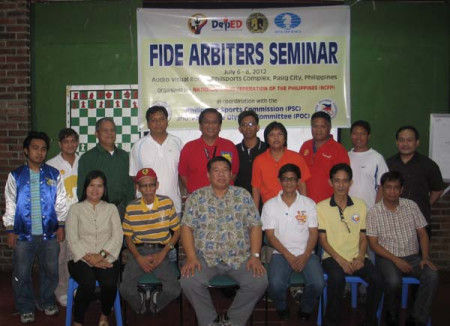 From 5 to 9 July 2012 a FIDE Arbiters' Seminar was organized in Manila, Philippines, by the National Chess Federation of Philippines and under auspices of FIDE.
The lecturer was IA Casto Abundo (PHI), Asian Chess Federation Deputy President and FIDE Lecturer.
The lectures were in English language.
12 National Arbiters from Philippines participated in the Seminar and in the examination test, held after the end of the lectures and the following succeeded in the test and will be awarded a norm for the FIDE Arbiter title and after the approval of the next FIDE Congress:
FIDE ID NAME
5200644 IM Yves V. Ranola
5215226 Hermilo S. Samaniego

5216508 Roy Ibarra Madayag

5216567 Lorenzo P. Cuizon, Jr.

5216524 Christian C. Javier

5215218 Gatpayo V. Luz

5207819 Fundador S. Binahon, Jr.
IA Panagiotis Nikolopoulos
Chairman
FIDE Arbiters' Commission