FIDE Arbiters' Seminar in La Habana, CUBA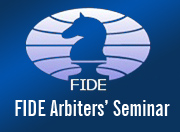 From 14 to 18 November 2012 a FIDE Arbiters' Seminar was organized in La Habana, Cuba, by the Cuban Chess Federation in cooperation with the Commission for Women's Chess and under the auspices of FIDE.
The lecturer was IA Serafin Chuit Perez (CUB), FIDE Lecturer and Assistant lecturer was IA Barbara Lopez Chavez Marino (CUB).
The lectures were in Spanish language.
32 women from Cuba, Ecuador and Costa Rica participated in the Seminar.
All of them participated in the examination test, held after the end of the lectures and the following succeeded in the test and will be awarded a norm for the FIDE Arbiter title and after the approval of the next FIDE Presidential Board:
Ivette Catala Matienzo (CUB)
Sonia Batista Terrero (CUB)
Miladys Rodriguez Espinel (CUB)
Bexy Díaz Hernandez (CUB)
Maria Cristina Rafoso Mendiondo (CUB)
Roquelina Fandino Reyes (CUB)
Tania Badalo Gonzalez (CUB)
IA Panagiotis Nikolopoulos
Chairman
FIDE Arbiters' Commission