ARB Training Programme – Sessions 04 & 05
150! This will be the recorded number of arbiters trained in the Basic Course of the FIDE Online/Hybrid Arbiter Training Programme in April 2021, after 3 weeks of operations. This also secured 50% of the federations on board, as participants attended from 98 different federations! The demand is still high and new sessions will be scheduled over the whole month of May.
The ARB Commission is proud of this great start and would like to thank the federations who helped reach these fantastic numbers! If your federation is not yet coloured on the map and you haven't registered your arbiters yet, just get in touch with the commission to join the programme!
Sessions 04 and 05 gave us the opportunity to start ramping up with the deployment of the programme. After a fortnight of nursing period, where our team of 4 lecturers was attending the first 3 sessions all together, we are now ready to split the courses and deliver more sessions per week. 60 new colleagues could be trained in the last 4 days and we will continue like this and may even increase the pace, depending on the future demand. Our ambition is to cover up to 500 colleagues trained on the Basic Course by the end of May.
Session 04 took place on the 26-27-28-29 April 2021. The following participants attended, cumulating 87 federations in the programme: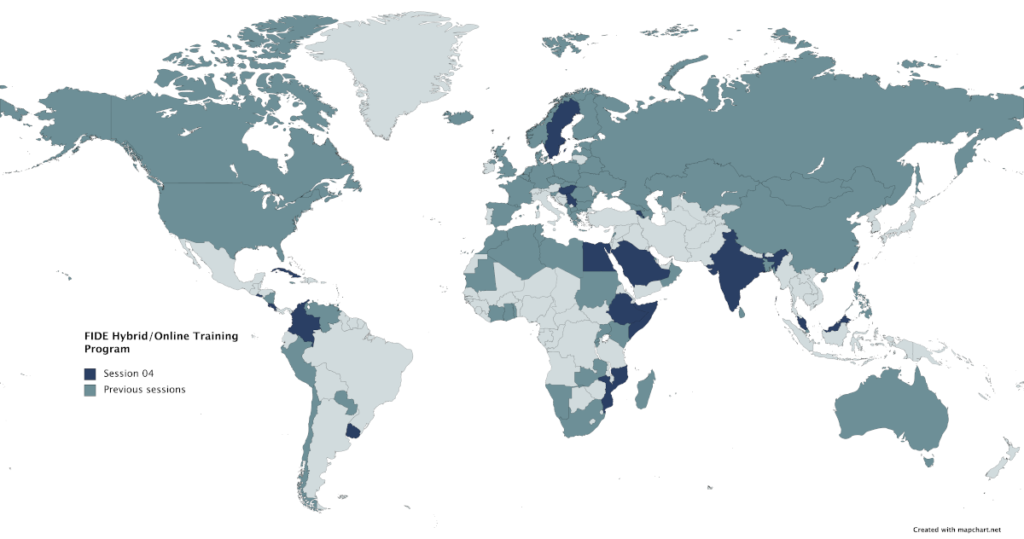 | Title | Arbiter | Federation |
| --- | --- | --- |
| FA | Abdul Wahab, Najib | MAS |
| IA | Atkinson, Alan | ENG |
| NA | Bejatovic, Bojana | MKD |
| IA | Cicmil, Vladimir | SRB |
| IA | Daniel, Kelvin | BAR |
| IA | Gnyp, Yuriy | UKR |
| FA | Hawas, Khaled | EGY |
| FA | Ishaq, Alanoud | KSA |
| IA | Japaridze, Marika | GEO |
| IA | Kalnins, Toms | LAT |
| FA | Kapas, Robert | HUN |
| FA | khayat, Abdullah F | KSA |
| IA | Malaige, Antonio Alberto | MOZ |
| IA | Milvang, Otto | NOR |
| IA | Mohamed, Mohamed Abdulla | SOM |
| IA | Motuzova, Marta | SVK |
| FA | Muzzi, Eduardo | URU |
| IA | Nesla, Adnane | ALG |
| IA | Nugusse, Dejen Zelalem | ETH |
| IA | Pedraza Ledon, Osmani | CUB |
| IA | Rathinam, Anantharam | IND |
| NA | Rodriguez, Cristian A. | ESA |
| FA | Rojas Villamil, Pedro | COL |
| IA | Surender, Anil | SWE |
| IA | Tsai, Peter | AUS |
| FA | Urbina Quiroz, Edwin | CRC |
| IA | Vardapetyan, Ashot | ARM |
| IA | Yueh, Elsa Wei Chung | TPE |
Session 05 took place on the 26-27-28-29 April 2021. The following participants attended, cumulating 98 federations in the programme: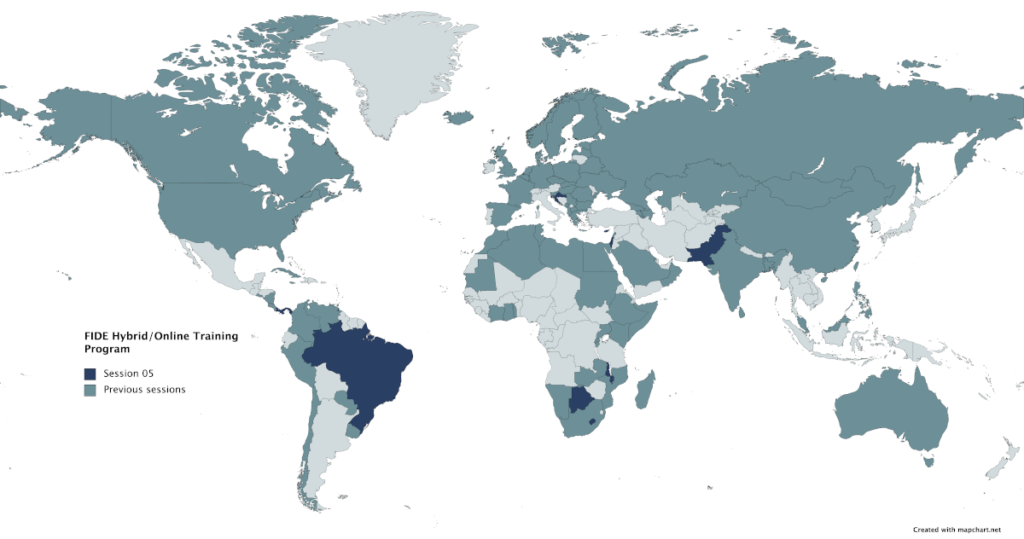 | Title | Arbiter | Federation |
| --- | --- | --- |
| NA | Ahmed, Nidal | PLE |
| NA | Alexander, Andy | LCA |
| NA | Alharari, Mohammed Alsouri | LBA |
| NA | Andriasyan, Mikayel | ARM |
| FA | Brulic, Denis | CRO |
| FA | Bryan, Mark | CYP |
| FA | Cantilo-Paz, Agustin | PAN |
| IA | Carvalho, Guillermo | URU |
| IA | Clayton, David Graham | ENG |
| FA | Draskovic, Davor | MNE |
| FA | Gariseb, Immanuel | NAM |
| IA | Gasimov, Rahim | AZE |
| IA | Hennequin, Chantal | FRA |
| NA | Johansson, Henrik | SWE |
| IA | Masole, Vincent | BOT |
| NA | Matkun, Zeljko | CRO |
| IA | Mkumbwa Gilton | MAW |
| FA | Mudalige, L V | SRI |
| FA | Niyibizi, Alain Patience | RWA |
| IA | Oyunchimeg, Genden | MGL |
| FA | Rakotomaharo, Yves Andre | MAD |
| FA | Rietter, Luciano | BRA |
| IA | Rimestad, Arild | DEN |
| NA | Selatela, Khiba | LES |
| NA | Shan Bilal Khan | PAK |
| FA | Soca, Roberto Tiago | MOZ |
| IA | Sorokina, Anastasia | BLR |
| IA | Srebrnic, Ana | SLO |
| FA | Tatolo, Kutlwano | BOT |
| IA | Tlaib, Hani | PLE |
| FA | Van der Graaf, Andre | NED |
| NA | Weinstein, Shaul | ISR |