ARB Training Programme – Sessions 08 & 09
As we mentioned it when reporting about Session 02, the FIDE ARB is now equipped with a Training Portal to better support our arbiters' community in their training initiatives. This is a secured space where some pedagogical content is shared with trainees. Another important kind of document can be found there, now managed in an automated and standardized way: the Certificate of Attendance!
We are proud that one of the FIDE Vice Presidents actively participated in our programme. Thanks for your support and active participation, Nastya!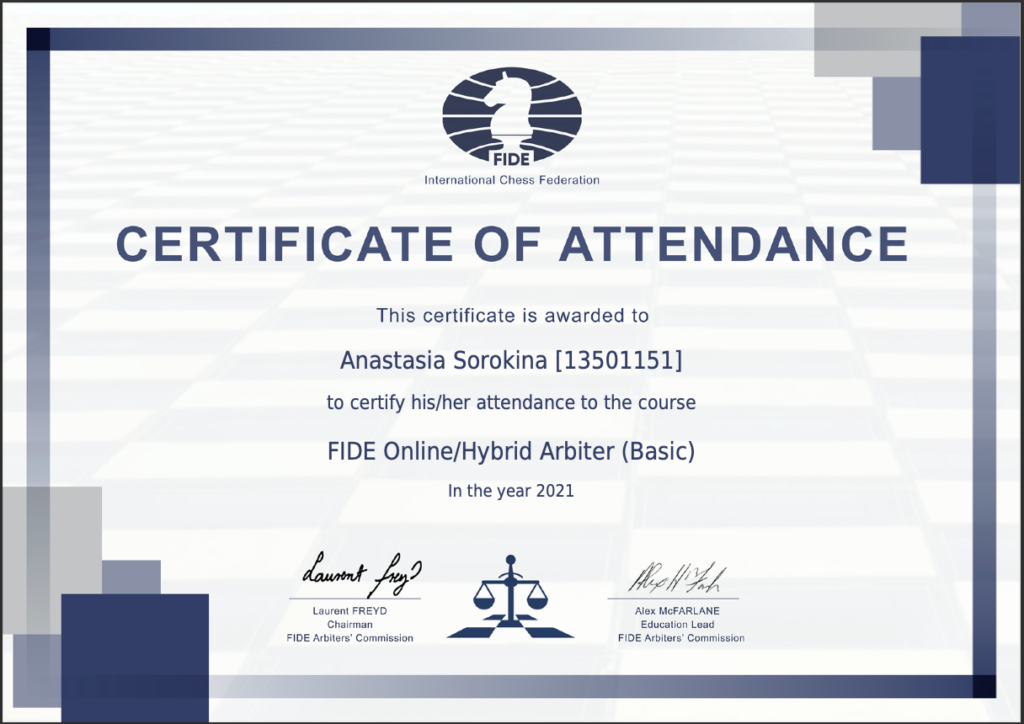 Session 08 took place on the 3-4-5-6 May 2021. The following participants attended, cumulating 127 federations in the programme: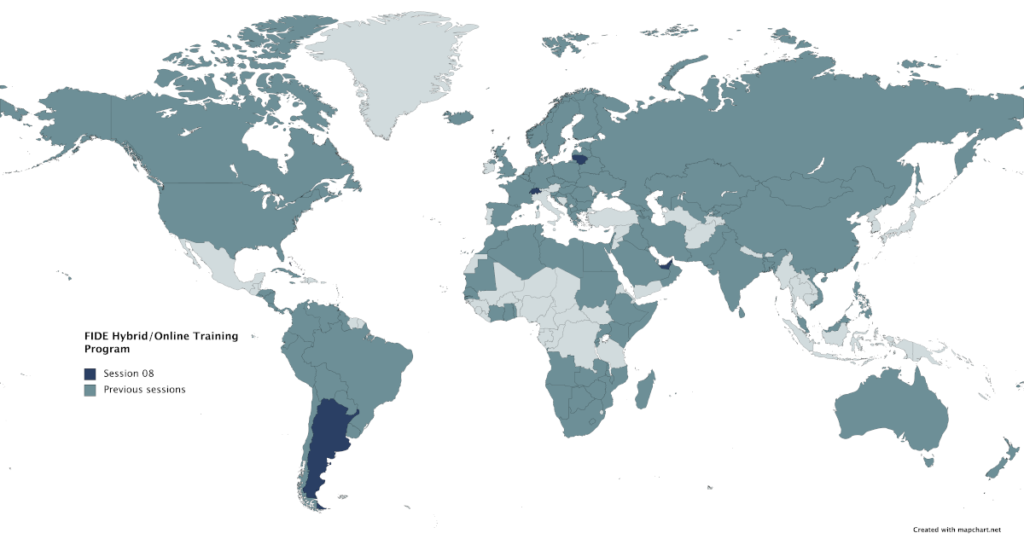 | Title | Arbiter | Federation |
| --- | --- | --- |
| IA | Abd Hamid Bin Abd Majid | MAS |
| IA | Abdulrahim, Mahdi | UAE |
| FA | Adam, Nasih | MDV |
| IA | Alt, Ralph | GER |
| IA | Brustman, Agnieszka | POL |
| FA | Chi, Yin Phin | MAS |
| IA | Domarkaite, Laima | LTU |
| IA | Garcia Valer, Jesus | ESP |
| IA | Gopakumar M S | IND |
| IA | Hall, Craig | NZL |
| FA | Kim, Chris | USA |
| IA | Kingoina, Peter Duke Michieka | KEN |
| NA | Kovetcheva, Anabelle | CAN |
| IA | Kradolfer, Georg | SUI |
| IA | Lavi, Idan | ISR |
| NA | Le, Truc Quan | VIE |
| IA | Liendro, Beatriz | ARG |
| NA | Matthew Bailey | ANT |
| NA | Mitev, Miroslav | BUL |
| IA | Nemecek, Josef | SUI |
| FA | Nunez Gonzalez, Joshebeth Elena | CRC |
| IA | Polendakova, Iliana | BUL |
| FA | Putka, Verners | LAT |
| No | Rondon Chacon, Yolys Desiree | PAN |
| IA | Shulman, Alon | ISR |
| IA | White, Andre | BAH |
| NA | Williams, Hiram | SKN |
| IA | Yang, Brian | USA |
Session 09 took place on the 3-4-5-6 May 2021. The following participants attended, cumulating 131 federations in the programme: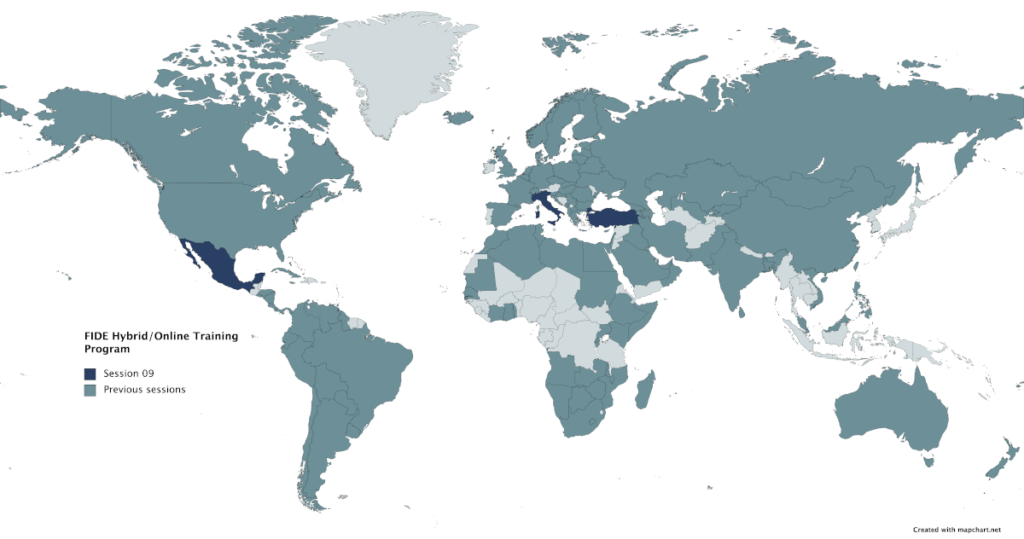 | Title | Arbiter | Federation |
| --- | --- | --- |
| NA | Abozenko, Georg | EST |
| NA | Aguilar Monterrosas, Eduardo | MEX |
| NA | Alsulami, Sultan A | KSA |
| IA | Bedrossian, Jacques | LBN |
| IA | Bird, Christopher | USA |
| IA | Burstein, Almog | ISR |
| IA | Caliskan, Ismail | TUR |
| FA | Carrillo, Jose Antonio | PAN |
| IA | Cornet, Luc | BEL |
| IA | Ganci, Stefano | ITA |
| IA | Genova, Ruzhka | BUL |
| FA | Hernandez Martinez, Jeronimo | MEX |
| FA | Hernandez, Roberto | PLW |
| NA | Khasanov, Ruslan | UZB |
| IA | Kisuze, Stephen Ssemmango | UGA |
| IA | Lovaas, Roger | NOR |
| FA | Maldonado Valdivia, German | ESP |
| FA | Ngima, Cheryl | KEN |
| FA | Olmos Olalde, Victor Hugo | MEX |
| IA | Ozel, Bilge Ibrahim | TUR |
| IA | Ramirez Diaz, Jose Luis | CUB |
| FA | Ross, Oded | ISR |
| IA | Rudman, Robert | SLO |
| FA | Son, Asya | KAZ |
| IA | Tsypina, Diana | CAN |
| NA | Uzelac, Iva | SRB |
| NA | Zacharoplastis, Pambos | CYP |