FIDE Arbiters' Seminar in Dubai, UAE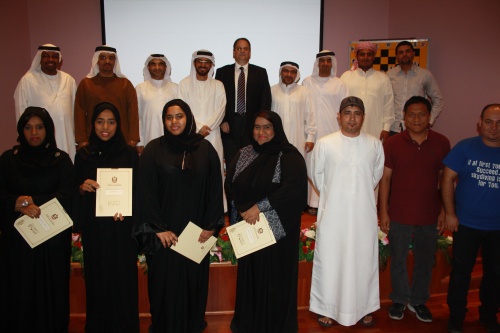 From 5 to 9 May 2013 a FIDE Arbiters' Seminar was organized in Dubai UAE, by the UAE Chess Federation, under auspices of FIDE.
The venue of the Seminar was the Leaders Qualification Center in Dubai.
The lecturer was IA Panagiotis Nikolopoulos (GRE), Chairman of the FIDE Arbiters' Commission and FIDE Lecturer and Assistant Lecturers were IA Al Radhi, Naji Mohamed (UAE) and IA Al Khoori, Tareq M. (UAE).
IA Mahdi Abdulrahim (UAE), Councilor of FIDE Arbiters' Commission, was the Observer in the Seminar.
The lectures were in English language.
24 Arbiters (10 women and 14 men) from UAE, Libya, Somalia, Yemen, Syria and Philippines participated in the Seminar.
Nine (9) of them participated in the examination test, held after the end of the lectures and the following succeeded in the test and will be awarded a norm for the title or the FIDE Arbiter, after the approval of the next FIDE Presidential Board or Congress:
| | | | |
| --- | --- | --- | --- |
| Name | NAT | FIDE_ID | Sex |
| Maitha, Khalif | UAE | 9306218 | F |
| Salem, Amna | UAE | 9302689 | F |
| Al Suwaidi, Omar | UAE | 9312137 | M |
| Dhahi, Nouf Jehad | UAE | 9308938 | F |
| Abdulla, Salah Husain | YEM | 9312145 | M |
| Al Hasan, Saleh | SYR | 7604840 | M |
| Alexis Byron C. Dysangco | PHI | 5217822 | M |
IA Panagiotis Nikolopoulos
Chairman
FIDE Arbiters' Commission