FIDE ARBITERS' SEMINAR in Tipasa, ALGERIA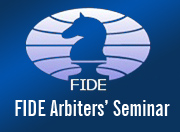 A FIDE Arbiters' Seminar is going to be organized from 20 to 22 June 2013 in Tipasa, Algeria, by the Algerian Chess Federation and under the auspices of FIDE.
The venue of the Seminar will be the Center "Great Blue" in Tipasa.
The Lecturer will be IA Igor Verechagin (RUS), FIDE Lecturer.
Assistant Lecturers will be IA Announ, Nasredine (ALG) and IA Nesla, Adnane (ALG).
The language of the Seminar will be Arabic and French.
For more detailed information:
Zerdali Samir – Zerdali73@hotmail.com , Fajedz@yahoo.fr
(see application)