FIDE Arbiters' Seminar in Thessaloniki, GREECE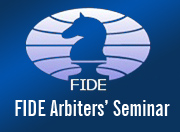 From 24 to 26 May 2013 a FIDE Arbiters' Seminar was organized in Thessaloniki, Greece, by the Greek Arbiters' Committee, in cooperation with the Thessaloniki-Halkidiki Chess Union and the Greek Chess Federation, under the auspices of FIDE.
The venue of the Seminar was the hall of the GALAXIAS Chess Club in Thessaloniki.
The lecturer was IA Vyron Tsorbatzoglou (GRE), FIDE Lecturer, and Assistant lecturers were IA Argiris Kitharidis (GRE) and IA Ioannis Mitrou (GRE).
Seven (7) National Arbiters from Greece participated in the Seminar.
All of them participated in the examination test, held after the end of the lectures and the following succeeded in the test and will be awarded a norm for the FIDE Arbiter title and after the approval of the next FIDE Congress:
| | | | | |
| --- | --- | --- | --- | --- |
| SURNAME | NAME | FED | SEX | FIDE ID |
Grapsa Georgia GRE F 4206436
Gerontopoulos Prodromos GRE M 4214463
Hristoforidis Ioannis GRE M 4225295
Tozaros Hristos GRE M 4297563
Giannoulakis Spyros GRE M –
IA Panagiotis Nikolopoulos
Chairman
FIDE Arbiters' Commission