FIDE Arbiters' Seminar in Budva, MONTENEGRO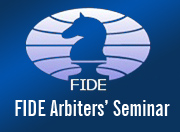 From 30 September to 3 October 2013 a FIDE Arbiters' Seminar was organized in Budva, Montenegro by the Chess Federation of Montenegro and under the auspices of FIDE.
The venue of the Seminar was the conference room of Hotel "Slovenska Plaza".
The lecturers were IA Vladimir Sakotic (MNE) and IA Sava Stoisavljevic (SRB)
The lectures were in the English language with Montenegrian translations when necessary.
13 people from 7 Federations (ALB, BIH, ISL, MDA, MNE, ROU and SRB) participated in the Seminar.
All of them participated in the examination test, held after the end of the lectures and the following succeeded in the test and will be awarded a norm or the FIDE Arbiter title and after the approval of the next FIDE Presidential Board:
| | | |
| --- | --- | --- |
| NAME | FIDE ID | FED |
| Misini, Burhanudin | 4701488 | ALB |
| Pleh, Semir | 14405016 | BIH |
| Baldursson, Steinthor | 2310880 | ISL |
| Bargan, Sergei | 13900854 | MDA |
| Perunicic, Zoran | 910031 | MNE |
| David, Dorian Ciprian | 1216341 | ROU |
| Golubovic, Marko | 939889 | SRB |
| Stojanovic, Nadezda | 928640 | SRB |
| Jakovljevic, Dejan | 949418 | SRB |
| Stankovic, Miodrag | 949922 | SRB |
| Pejic- Randjelovic, Dragana | 911240 | SRB |
| Tisma, Ivan | 920614 | SRB |
| Radosavljevic, Nebojsa | 929298 | SRB |
IA Panagiotis Nikolopoulos
Chairman
FIDE Arbiters' Commission