FIDE Arbiters' Seminar in Chennai, INDIA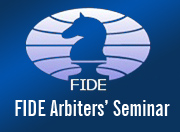 From 10 to 13 November 2013 a FIDE Arbiters' Seminar was organized in Chennai, India, by the All India Chess Federation and under the auspices of FIDE.
The Lecturer was IA Ignatius Leong (SIN), FIDE General Secretary and FIDE Lecturer, and Assistant Lecturer was IA Prof. R. Anatharam (IND).
The lectures were in the English language.
Thirty four (34) people from various parts of India participated in the Seminar and in the examination test held after the lectures. The following succeeded in the test and they will be awarded a FIDE Arbiter Norm, after the approval of the next FIDE Presidential Board:
| | |
| --- | --- |
| NAME | FEDERATION |
| Ganesh R | INDIA |
| Sathiesh G G | INDIA |
| Ganesh Babu R K | INDIA |
| Balaguru K.B. | INDIA |
| Chelvaprakash K | INDIA |
| Prem Kumar G | INDIA |
| Selvamanikandan S | INDIA |
| Ramarajasekhara Reddi | INDIA |
| Sivaramakrishnan R | INDIA |
| Susil Kumar S | INDIA |
| Vinoth Kumar T | INDIA |
| Kirti Sharma | INDIA |
| Naresh Talla | INDIA |
| Rajesh R | INDIA |
| Ebenezer Joseph | INDIA |
| Krishnarao Somanath | INDIA |
| Chopon Babu R K | INDIA |
| Jain Marlet S | INDIA |
| Nagendra Prasad B S | INDIA |
| Pravin Narayan Pantawane | INDIA |
| Babita B | INDIA |
| Bhamaa G | INDIA |
| Jahir Hussain A | INDIA |
| Savitha Venkatesh | INDIA |
| Anurag Singh | INDIA |
| Dharmaraj P | INDIA |
| Govindarajan | INDIA |
| Baskaran M | INDIA |
| Dhenagaran B | INDIA |
| Biswajit Nag | INDIA |
| Jayalakshmi D | INDIA |
| Kachare Parimal Suresh | INDIA |
| Kiruthika S | INDIA |
| Silambarasan D | INDIA |
IA Panagiotis Nikolopoulos
Chairman
FIDE Arbiters' Commission