FIDE Arbiters' Seminar in Manama, BAHRAIN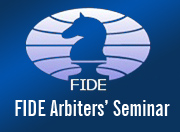 From 17 to 20 November 2013 a FIDE Arbiters' Seminar was organized in Manama, BAHRAIN, by the Bahrain Mind Sports Association and under auspices of FIDE.
The Lecturer of the seminar was IA Shaker Alafoo (BRN), FIDE Lecturer and assistant Lecturer was FA Taha Hussain Ahmed (BRN).
The venue of the Seminar was the Golden Tulip Hotel in Manama.
The lectures were in English, with translation in Arabic.
Twenty four (24) people from Bahrain, including 5 women, participated in the Seminar and fifteen (15) of them participated in the examination test, held after the end of the lectures.
The following succeeded in the test and they will be awarded a norm for the title of the FIDE Arbiter, after the approval of the next FIDE Presidential Board:
| | | |
| --- | --- | --- |
| Name | Fide ID | Fed |
| Ahmed Abdulla, Hasan | 11202289 | BRN |
| Abdulla, Zainab | 11202211 | BRN |
| Al-Ghasra, Osama | 11200170 | BRN |
| Al-Ghasra, Ahmed | 11200162 | BRN |
| Al Jamri, Maleeha | 11202300 | BRN |
| Vargas, Salome | 11202572 | BRN |
| Bukhalaf, Mansoor | 11200600 | BRN |
| Ayyad Husain | 11200243 | BRN |
| Ayyad, Maher | 11200235 | BRN |
| Ghuloom, Hashim | 11201258 | BRN |
| Hameed, Bayan | 11201282 | BRN |
| Ebrahim, Mahmood | 11201908 | BRN |
IA Panagiotis Nikolopoulos
Chairman
FIDE Arbiters' Commission