FIDE ARBITERS' SEMINAR in, USA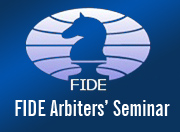 The Chess Educators of USA is going to organize a FIDE Arbiters' Seminar, from 8 to 12 June 2014, under the auspices of FIDE.
The Lecturer will be IA Sevan Muradian (USA), FIDE Lecturer.
The venue of the Seminar will be Doubletree Hotel, in Tarrytown, New York, USA.
The lectures will be in English language.
The Seminar will give FA norms according to the FIDE regulations for the titles of the Arbiters.
For more detailed information please contact:
Beatriz Marinello: e-mail: Beatriz@chesseducators.com
(see attached application)