FIDE ARBITERS' SEMINAR in Baghdad, IRAQ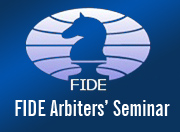 A FIDE Arbiters' Seminar is going to be organized from 25 to 28 March 2014 in Baghdad, Iraq, by the Iraqi Chess Federation and under the auspices of FIDE.
The Lecturer will be IA Shaker Alafoo (BRN), FIDE Lecturer and assistant Lecturer will be IA Dhafer Abdul, Ameer Madhloom (IRQ).
The venue of the Seminar will be the office of the Iraqi Chess Federation in Baghdad.
The language of the Seminar will be Arabic.
The Seminar will give FA norms and titles according to the FIDE regulations for the titles of the Arbiters.
For more detailed information:
(see attached application)