38th HONDURAS Internet based FIDE Arbiters' Seminar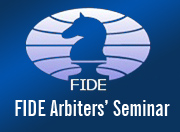 From 24 to 29 June 2014 the 38h Internet based FIDE Arbiters' Seminar was held, organized by the Chess Federation of Honduras and under the auspices of FIDE.
The lecturer of the seminar was IA Santiago Garcia Ramos (MEX), FIDE Lecturer and the Assistant lecturer and Technical Organizer was IA Hector Mejia Espinal (HON).
The Lectures were in Spanish language.
Fourteen (14) Arbiters from ten (10) federations (Spain, Colombia, Ecuador, Ukraine, Greece, USA, England, Honduras, Mexico and Dominican Republic) attended the seminar on Internet and participated in the examination test held after the lectures.
The following succeeded in the test and will be awarded a norm for the title of FIDE Arbiter, after the approval of the next FIDE Congress:
| | |
| --- | --- |
| NAME | FEDERATION |
| Alfonso Martínez Escandell | España |
| Sonia Gil Quílez | España |
| José Domingo Calle Moreau | España |
| Martin Oriol Brotat Mestre | España |
| Andrés Camilo Rodríguez López | Colombia |
| Juan Manuel García Suárez | Colombia |
| Plinio Efrain Pazos Gambarrotti | Ecuador |
IA Panagiotis Nikolopoulos
Chairman
FIDE Arbiters' Commission