FIDE ARBITERS' SEMINAR in Eforie Nord, ROMANIA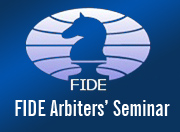 A FIDE Arbiters' Seminar is going to be organized from 1 to 3 September 2014 in Eforie Nord, Romania, by the Romanian Chess Federation, in cooperation with the Constanta County Chess Association and under the auspices of FIDE.
The venue of the Seminar will be the Acapulco Hall in Eforie Nord.
The Lecturer will be IA Igor Vereshchagin (RUS), FIDE Lecturer and Assistant Lecturer will be IA Dinu-Ioan, Nicula (ROU).
The language of the Seminar will be English.
For more detailed information:
Claudiu-Badea Iordache: e-mail: iclaudiu1@yahoo.com
Tel.: +40 722513405
(see application)