FIDE ARBITERS' SEMINAR in Palmira, COLOMBIA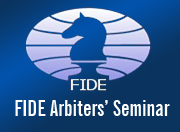 A FIDE Arbiters' Seminar is going to be organized from 4 to 7 of October 2014 in Palmira, Colombia, by the Colombian Chess Federation, in cooperation with the Commission for Women's Chess and under the auspices of FIDE.
The venue of the Seminar will be the Coliseo Ramon Elias Lopez, in Palmira.
The Lecturer of the Seminar will be IA Bárbara Isabel López –Chávez Mariño (CUB), FIDE Lecturer and Assistant Lecturer will be FA Roquelina Fandino (CUB).
The language of the Seminar will be Spanish.
For detailed information:
Mr. Alfonso Naranjo: email: alfonsonaranjoa@yahoo.com
(see attached application).