FIDE Arbiters' Seminar in Zhu, Hai, CHINA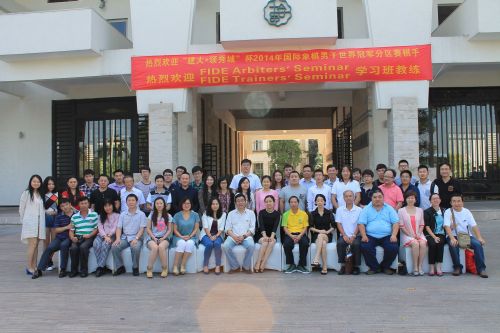 From 26 to 30 October 2014 a FIDE Arbiters' Seminar was organized in Zhu Hai, China, by the Chinese Chess Association and under the auspices of FIDE.
The lecturer was IA Ignatius Leong (SIN), FIDE Lecturer and Assistant Lecturers were IA Zhu Jiaqi (CHI) and IA Zhang Jilin (CHN).
55 people from China participated in the Seminar and in the in the examination test, held after the end of the lectures.
The following succeeded in the test and they will be awarded a norm or the FIDE Arbiter title, after the approval of the next FIDE Presidential Board:
姓名

NAME

GENDER

FED

FIDE ID

许昱华

Xu,Yuhua

F

CHN

8600635

王青

伟

Wang,

Qingwei

M

CHN

8602751

林

卫

国

Lin,Weiguo

M

CHN

8600058

安燕

龙

An Yanlong

M

CHN

8615675

邝颖

慧

Kuang,Yinghui

F

CHN

8600988

张一

平

Zhang Yiping

M

CHN

8615802

刘

颖辉

Liu Yinghui

F

CHN

8612293

朱椿舜

Zhu Chunshun

M

CHN

8615721

梁雨佳

Liang,Yujia

F

CHN

8615845

郝玉亮

Hao,Yuliang

M

CHN

8615837

洪涛

Hong,Tao

M

CHN

8616248

梁自明

Liang,Ziming

M

CHN

8615683

林

诸

寰

Lin,Zhuhuan

M

CHN

8611637

杨寒

雄

Yang Hanxiong

M

CHN

8608296

潘彦陪

Pan Yanpei

M

CHN

8615730

师淑华

Shi Shuhua

F

CHN

8615748

连瑞

慧

Lian Ruihui

F

CHN

8615756

郭嘉

铭

Guo Jiaming

M

CHN

8615772

潘理想

Pan Lixiang

M

CHN

8612382

王馨悦

Wang Xinyue

F

CHN

8603960

赵雅伦

Zhao Yalun

F

CHN

8606820

方

伟

臣

Fang Weichen

M

CHN

8615640

杨海

南

Yang Hainan

M

CHN

8602948

贾昊

翔

Jia Haoxiang

M

CHN

8602999

梁浪

发

Liang Langfa

M

CHN

8615861

刘瑶

Liu Yao

F

CHN

8615780

朱

颖

中

Zhu Yingzhong

M

CHN

8615713

罗新跃

Luo Xinyue

M

CHN

8615659

刘襄琳

Liu Xianglin

F

CHN

8602409

邓思

渝

Deng Siyu

F

CHN

8604797

王琛

Wang,Chen

F

CHN

8605246

俞

婷

Yu,Ting

F

CHN

3403963

刘月清

Liu,Yueqing

M

CHN

8611750

高宁林

Gao,Ninglin

F

CHN

8615705

李自

为

Li,Ziwei

M

CHN

8615829

李若谷

Li,Ruogu

M

CHN

8615853

高懿屏

Gao,Yi-Ping

F

TPE

16300955

王大捷

Wang, Ta-Chieh

M

TPE

16301331

王天瑜

Wang,Tianyu

M

CHN

8615870

朱王祥

Zhu,Wangxiang

M

CHN

8615691

Tony Tan

Tan Teck-Leng Tony

M

SIN

5817846

江开礼

Jiang,Kali

M

CHN

8615799

许

新

Xu,Xin

M

CHN

8615810

宋本磊

Song,Benlei

M

CHN

8611629

李梓煦

Li,Zixu

M

CHN

8615667

黎元星

Li,Yuanxing

M

CHN

8605920

乐馨聪

Yue xincong

F

CHN

8605882

杨世宾

Yang Shibing

M

CHN

8616108

王宏

伟

Wang Hongwei

M

CHN

8616116
IA Panagiotis Nikolopoulos
Chairman
FIDE Arbiters' Commission