FIDE Arbiters' Seminar in Agadir, MOROCCO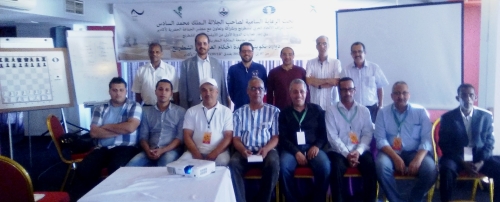 From 7 to 11 October 2015 a FIDE Arbiters' Seminar was organized in Agadir, Morocco, by the Royal Morocco Chess Federation, in cooperation with the Arab Chess Federation and under auspices of FIDE.
The venue of the Seminar was the Anezi Tower Hotel in Agadir.
The lecturer was IA Mahdi Abdulrahim (UAE), Councilor of the FIDE Arbiters' Commission and FIDE Lecturer and Assistant Lecturer was IA Akkour Abdelfattah (MAR).
The lectures were in Arabic language with translation in French.
Eighteen (18) people from Morocco, Algeria and Mauritania participated in the Seminar and thirteen (13) of them participated in the examination test, held after the end of the lectures.
The following succeeded in the test and will be awarded a norm of the FIDE Arbiter, after the approval of the next FIDE Presidential Board:
N

ame

Fed.

Fide- ID

Becham, Khalid

MAR

9000275

Elmahjoub

,

Cheikh Sidya

MTN

19600194

El, Habachi Rachid

MAR

9006222

Y

ahia,

M

ustapha

MAR

9008829

Tajidine, Sidi Mohamed

MTN

26030900

Moustapha, Cheikh Brahim

MTN

19600860

El Amari, Khaled

MAR

9001298

Rahmouni,Madjid

ALG

7913621

Elhaimer

,

M

ohamed

MAR

9007245

Takieddine, Abdelkader

MAR

9002758
Takis Nikolopoulos
Chairman
FIDE Arbiters' Commission