FIDE Arbiters' Seminar in Sharjah, UAE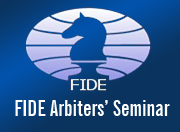 From 30 October to 2 November 2015, a FIDE Arbiters' Seminar was held in Sharjah, United Arab Emirates, in cooperation with the UAE Chess Federation, UAE Leaders Qualification Centre and under the auspices of FIDE.
The lecturer of the seminar was IA Dr. Hesham Elgendy (EGY), FIDE lecturer and Assistant lecturer was IA Sultan Al Taher (UAE), FIDE lecturer.
The Lectures were in Arabic language.
Twenty one (21) Arbiters from UAE, Syria and Palestine attended the seminar.
Fourteen (14) of them participated in the examination test that was held after the end of the lectures and the following succeeded in the test and will be awarded a norm of the FIDE Arbiter title, after the approval by the next FIDE Presidential Board:
NAME

F

ED

.

FIDE I

.

D

.

Okla , Sohib

SYR

7602421

Rayes, Abdul Kader

SYR

7600801

Adeeb, Zehrawi

SYR

7607148

Al Halak, Mohammad

SYR

7607032

Al Muallem, Duha

SYR

7605919

Safar, Marwa Mohamed

UAE

9317759

Al Blooshi, Hassan Abdulla

UAE

9318151

Khalaf, Muthana Ahmed

UAE

9316108

Farouk, Hudaifa

SYR

7604319

Al Mansorry, Mohamed M.

UAE

9318143

Bukhashim, Sumaya Ibrahim

UAE

9318135
IA Takis Nikolopoulos
Chairman
FIDE Arbiters' Commission