FIDE Arbiters' Seminar in Seoul, SOUTH KOREA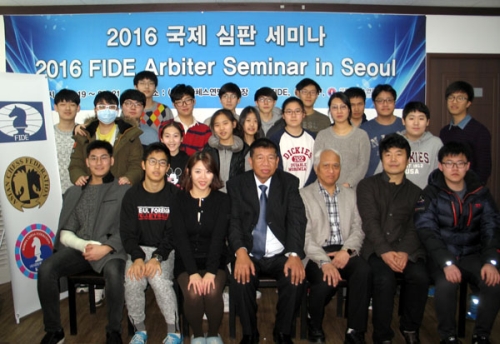 From 19 to 21 February 2016 a FIDE Arbiters' Seminar was organized in Seoul, South Korea, by the South Korean Chess Federation, in cooperation with the Asian Chess Federation and under the auspices of FIDE.
The lecturer was IA Casto Abundo (PHI), Chairman of the Asian Arbiters' Commission and FIDE Lecturer and Assistant lecturer was IA K.K. Chan (HKG).
The venue of the Seminar was the South Korean Chess Federation headquarters.
Twenty two 22 people from Korea participated in the seminar and the examination test held after the end of the lectures.
The following succeeded in the test and will be awarded a norm for the title of FIDE Arbiter, after the approval of the next FIDE Presidential Board.
| | | |
| --- | --- | --- |
| NAME | FIDE ID | GENDER FED |
| Son, Romon | 13200674 | M KOR |
| So, Byunghoon | 13200631 | M KOR |
| Cho, Yeonhee | 13201190 | F KOR |
| Bae junggi | 13201298 | M KOR |
| Bae, Youmi | 13201298 | F KOR |
| Park Hee Joung | 13202324 | F KOR |
| Kang, Hanseul | 13202715 | F KOR |
| Park, Taekyong | 13203282 | M KOR |
| Lee, Injae | 13201441 | M KOR |
| Lee, Donghoon | 13202626 | M KOR |
| Park,Seyoung | 13204904 | M KOR |
| Kim, Sunmin | 13206303 | F KOR |
| Na, Won Jin | 13202839 | M KOR |
| Lee, Yoonsu Justin | 13206524 | M KOR |
| Ahn, Hongjin | 13201492 | M KOR |
| Jang, Jaewon | 13201158 | M KOR |
| Park, Hyukmin | 13200992 | M KOR |
| Kang, Jiin | 13201980 | F KOR |
| Choi, Hangsuk | 13202057 | M KOR |
| Chung, Daniel Sungho | 13205307 | M KOR |
IA Takis Nikolopoulos
Chairman
FIDE Arbiters' Commission