FIDE ARBITERS' SEMINAR in Tel Aviv, ISRAEL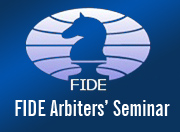 A FIDE Arbiters' Seminar is going to be organized, in Tel Aviv, Israel, from 4 to 8 December 2010, by the Israel Chess Federation and under the auspices of FIDE.
The venue of the Seminar will be the Shevah- Mofet School in Tel Aviv.
The Lecturer will be IA Almog Burstein (ISR) Chairman of the ICF Rules and Arbiters Commission and Assistant Lecturer will be IA Mordechai Shorek (ISR).
The Seminar will give FIDE Arbiter norms and titles (according to the article 3.10 of the regulations for the titles of the Arbiters) to the participants who will get 80% or more in the examination test.
For more detailed information:
IA Almog Burstein: almogbu@walla.com, tel : +972-544-979-447