FIDE Arbiters' Seminar in Tunis, TUNISIA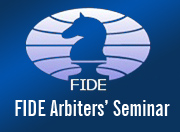 The Tunisian Chess Federation, in cooperation with the Arab Chess Federation and under the auspices of FIDE, is going to organize a FIDE Arbiters' Seminar in Tunis (Monastir), Tunisia, from 23 to 28 December 2010.
The Lecturer will be IA Mahdi Abdulrahim (UAE), Councilor of the FIDE Arbiters' Commission and Assistant Lecturer will be IO/IA Mohammad El Husseiny (EGY).
The lectures will be in Arabic language.
The Seminar will give FIDE Arbiter norms and titles according to the article 3.10 of the Regulations for the titles of the Arbiters.
For more detailed information please contact:
Tunisian Federation: tcf@ati.tnThis e-mail address is being protected from spambots. You need JavaScript enabled to view it