FIDE Arbiters' Seminar in Mekkah, SAUDI ARABIA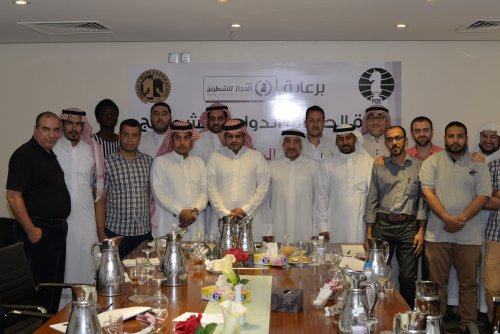 From 4 to 7 May 2016 a FIDE Arbiters' Seminar was organized in Mekkah, Saudi Arabia, by the Saudi Chess Association, in cooperation with the Asian Chess Federation and Hijaz Chess Club and under auspices of FIDE.
The Lecturer of the seminar was IA Mahdi Abdulrahim (UAE), FIDE Arbiters' Commission Councilor and FIDE Lecturer and Assistant Lecturer was FA Yaser Motlaq Al Otaibi (KSA).
The venue of the Seminar was the Reef International Hotel in Mekkah.
The lectures were in Arabic language.
Twenty two (22) people from Saudi Arabia, Morocco, Egypt, Tunisia, Yemen and Lebanon participated in the Seminar and nineteen (19) of them participated in the examination test, held after the end of the lectures.
The following succeeded in the test and they will be awarded a norm for the title of the FIDE Arbiter, after the approval of the next FIDE Congress:
First Name

Surname

Fed.

Fide- ID

Adil A

Al Osaimi

KSA

21501130

Fareed R

Al Zhrani

KSA

21504512

Abdulrahman

Al Subhi

KSA

21500258

Tareq

Bakkar

EGY

10642404

Fawaz

Al Sharif

KSA

21503486

Mohamad

Al Dahabi

LEB

5303710

Mohamed

Al Zahrani

KSA

21506566

N

aim

Hamdi

TUN

5506140

Sami

Khan

KSA

21500320

Muteib

Aluzali

KSA

21506477

Fawzi

Almutrafi

KSA

21507724

Saleem Muslih

Al Harthi

KSA

21505802

Hussein

Zaki

EGY

10643281

Hanan

Ibrahim

KSA

21507732

Fawaz

Brnawi

KSA

21507740

Mohamed

Tissir

MAR

9000240

Ibrahim

Assiri

KSA

21507759
IA Takis Nikolopoulos
Chairman
FIDE Arbiters' Commission