FIDE ARBITERS' SEMINAR in Bratislava, SLOVAKIA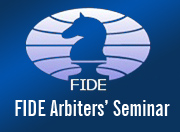 A FIDE Arbiters' Seminar is going to be organized on 23 and 24 January 2011 in Bratislava, Slovakia, by the Slovakian Chess Federation and under the auspices of FIDE.
The Lecturer will be IA Andrzej Filipowicz (POL), FIDE Lecturer, and Assistant Lecturers will be IA Karol Pekar (SVK), rating officer and vice-president of the Slovakian Chess Federation and IA Ivan Syrovy (SVK), chairman of SVK arbiter's committee.
The language of the Seminar will be English.
For more detailed information:
Slovenský šachový zväz
Sekretariát: Olympionikov 4, 971 01 Prievidza
sekretariat@chess.sk, www.chess.sk