FIDE ARBITERS' SEMINAR in Polanica Zdroj, POLAND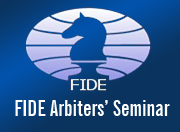 A FIDE Arbiters' Seminar is going to be organized from 20 to 24 August 2016 in Polanica Zdroj, Poland, by the Polish Chess Federation Arbiters' Commission, in cooperation with the Polish Chess Federation and under the auspices of FIDE.
The Seminar will take place during the 52nd Akiba Rubinstein Chess Festival.
The Lecturer will be IA Andrzej Filipowicz (POL) FIDE Lecturer and Assistant Lecturer will be IA Alexander Sokolski (POL).
The venue of the Seminar will be the Teatr Zdrojowy, ul. Parkowa 2, 57-320 Polanica-Zdroj.
The language of the Seminar will be English.
The Seminar will give norms for the title of FIDE Arbiter, according to the regulations for the titles of Arbiters.
For more detailed information:
Aleksander Sokolski, e-mail: asokolski@gmail.com
(see application)