FIDE Arbiters' Seminar in Pattaya, THAILAND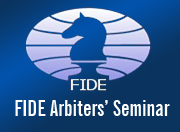 From 31 May to 4 June 2016 a FIDE Arbiters' Seminar was organized in Pattaya, Thailand, by the Thailand Chess Association and under the auspices of FIDE.
The venue of the Seminar was the Dusit Thani Hotel in Pattaya.
The lecturer was IA Abd Hamid Majid (MAS), FIDE Lecturer and Assistant lecturer was IA Peter Long (MAS).
The lectures were in English language.
Eleven (11) Arbiters from four (4) federations (Germany, Philippines, Thailand and Vietnam) participated in the seminar and in the examination test held after the end of the lectures.
The following succeeded in the test and they will be awarded a norm of the FIDE Arbiter title after the approval of the next FIDE Presidential Board:
| | | |
| --- | --- | --- |
| NAME | FEDERATION | FIDE I.D. |
| Bruno Burbach | Germany | 16213831 |
| Pornpong Petchrongrusamee | Thailand | 6201210 |
| Sorathon Swangjang | Thailand | 6205852 |
| Prattana Meesook | Thailand | 6206646 |
| Surapole Yutithamnon | Thailand | 6200516 |
| Atippat Pornariyasombat | Thailand | 6200516 |
| Poompat Sivara | Thailand | 6200443 |
| Quach Phuong Minh | Vietnam | 12415898 |
| Manunthon Atikankhotchasee | Thailand | 6203191 |
| Jaruupol Sajjapornthep | Thailand | 6202101 |
IA Takis Nikolopoulos
Chairman
FIDE Arbiters' Commission