FIDE Arbiters' Seminar in Johannesburg, SOUTH AFRICA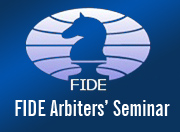 From 7 to 10 December 2010 a FIDE Arbiters' Seminar was organized in Johannesburg, South Africa, by the Chess Federation of South Africa and under auspices of FIDE.
The lecturer was IA Werner Stubenvoll (AUT), Councilor of the FIDE Arbiters' Commission.
24 arbiters from South Africa participated in the seminar.
All of them participated in the examination test, held after the end of the lectures.
The following sixteen (16) succeeded in the test and will be awarded the title of the FIDE Arbiter, according the article 3.10 of the Regulations for the titles of the arbiters and after the approval of the next FIDE Congress:
Rust, Keith (RSA)
Ferreira, Marius (RSA)
Du Randt, Jean (RSA)
Stocklose, Sven (RSA)
Esterhuizen, Ingrid (RSA)
Grobbelaar, Fransie (RSA)
Piek, Ronel (RSA)
Mahomole, Mahlodi Joe (RSA)
Du Toit, Hendrik Petrus (RSA)
Van Rensburg, Maria Catharina (RSA)
Brits, Willem (RSA)
Van der Merwe, Marisa (RSA)
Van der Westerhuizen, Henro (RSA)
Van Rensburg, Johan Frederich (RSA)
Rossouow, Pierre (RSA)
January, Mark C. (RSA)
IA Panagiotis Nikolopoulos
Chairman
FIDE Arbiters' Commission