FIDE Arbiters' Seminar in Thessaloniki, GREECE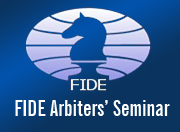 From 3 to 9 October 2016 a FIDE Arbiters' Seminar was organized in Thessaloniki, Greece, by the Chess Club "Galaxias" of Thessaloniki, in cooperation with the Greek Chess Federation and the Thessaloniki-Halkidiki Chess Clubs' Union and under auspices of FIDE.
The venue of the Seminar was the offices of the Chess Club "Galaxias" in Thessaloniki.
The lecturer was IA Viron Tsorbatzoglou (GRE), FIDE Lecturer and Assistant Lecturers were IA Prodromos Gerontopoulos (GRE), IA Stelios Mimikos (GRE), FA Ioannis Christoforidis (GRE) and NA Christos Tozaros.
Thirty eight (38) Arbiters from Greece participated in the Seminar.
All of them participated in the examination test, held after the end of the lectures and the following succeeded in the test and will be awarded a norm for the title of the FIDE Arbiter, after the approval of the next FIDE Presidential Board:
SURNAME-FIRST NAME

FED

.

FIDE

I.D.

Kyparissopoulou Eirini

GRE

25872117

Diamantopoulos Giorgos

GRE

4211430

Kyparissopoulos Nikolaos

GRE

25870840

Kavouris Georgios

GRE

25852213

Chatzipolitis, Georgios

GRE

25835700

Paterakis, Aristeidis

GRE

25849689

Evgeniadis Georgios

GRE

25826786

Theoharidis Georgios

GRE

4213882

Mpitzios Evaggelos

GRE

4253930

Patrikos Ioannis

GRE

4203062

Stefanatos Haralampos

GRE

4282426

Galanis Georgios

GRE

25872036

Avramidou Varvara

GRE

25872125

Pahtas Haideftos

GRE

4259939

Demelkas Panagiotis

GRE

25872133

Dimopoulos Christos

GRE

4289170

Palaiochorinos Panagiotis

GRE

25841688

Pechlivanidis Konstantinos

GRE

25872141

Mitsiou Dimitrios

GRE

25850741

Giakoustidis Spiros-Avgerinos

GRE

4208668

Drakaki Anna-Maria

GRE

4225210

Spirliadis Achileas

GRE

4215770

Dristellas Nikolaos

GRE

4289188

Triantafillidis Athanasios

GRE

4218841

Koukoubis Konstantinos

GRE

25835661

Banakas Konstantinos

GRE

25845624

Anagnostou Zoi

GRE

4282701

Bampaitoglou Pinelopi

GRE

25872150

Pegias Vasilios

GRE

25850750

Papaefstratiou Andreas

GRE

4222644

Vatkali Dimitra

GRE

4200705

Ballas Kleon-Evangelos

GRE

4215311

Agathoklis Michail

GRE

25872168

Zisis Dimitrios

GRE

25850768

Hristou Alexandros

GRE

4254899

Basdekis Nektarios

GRE

4241690

Bakaloulis Dimitrios

GRE

25848909

Liamos Asterios

GRE

25802011
IA Takis Nikolopoulos
Chairman
FIDE Arbiters' Commission