47th HONDURAS Internet based FIDE Arbiters' Seminar
From 1 to 6 November 2016 the 47th Internet based FIDE Arbiters' Seminar was held, organized by the Chess Federation of Honduras and under the auspices of FIDE.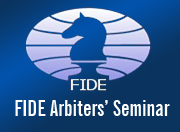 The lecturer of the seminar was IA Santiago Garcia Ramos (MEX), FIDE Lecturer and the Technical Organizer was IA Hector Mejia Espinal (HON).
The Lectures were in Spanish language.
Twelve (12) Arbiters from nine (9) federations (Spain, Argentina, Costa Rica, Honduras, Japan, Dominican Republic, Netherland Antilles, Chile and Mexico) attended the seminar on Internet and participated in the examination test held after the lectures.
The following succeeded in the test and will be awarded a norm for the title of FIDE Arbiter, after the approval of the next FIDE Congress:
N

AME

FED

Antonio Eduardo Pérez Santos

CHI

Germán Robles Asunción

ESP

Gustavo Roberto De la Parra Saldaña

MEX

Héctor Eduardo Vitte

ARG

Joshebet Elena Núñez González

CRC

Ernesto Ariel Reinoso

ARG
IA Takis Nikolopoulos
Chairman
FIDE Arbiters' Commission