FIDE Arbiters' Seminar in Khartoum, SUDAN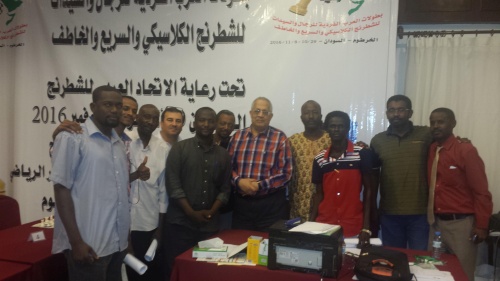 From 2 to 6 November 2016 a FIDE Arbiters' Seminar was organized in Khartoum, Sudan, by the Sudan Chess Federation, in cooperation with the Arab Chess Federation and under the auspices of FIDE.
The lecturer was IA Hassan Khaled (EGY), FIDE Lecturer and Assistant Lecturer was FA Omer Musa (SUD).
The lectures were in Arabic language.
Twenty three (23) people from Sudan and Iraq participated in the Seminar.
Nineteen (19) of them participated in the examination test, held after the end of the lectures and the following succeeded in the test and will be awarded a norm for the FIDE Arbiter title and after the approval of the next FIDE Congress:
| | | |
| --- | --- | --- |
| NAME | FED. | FIDE I.D. |
| Mohammed Awad | SUD | 12203130 |
| Ehab Serageldin | SUD | 12203181 |
| Ahmed, Ali | SUD | 12200654 |
| Ahmed Abas | SUD | 12203165 |
| Abdel Malek Osman | SUD | 12203173 |
| Mohammed Hassan Osman | SUD | 12203149 |
| Diyar Hama Salih Qader | IRQ | 4806441 |
| Sara Gadalla Karar | SUD | 12201456 |
IA Takis Nikolopoulos
Chairman
FIDE Arbiters' Commission